A battery management system is an electronic system that can manage one or more rechargeable batteries in a range of application scenarios, including monitoring, calculating, and reporting secondary data, controlling the ecosystem, and authenticating and balancing the entire system. These systems are connected to an external communication data bus. Typically, they are recharged via an intelligent battery charger. They usually maintain voltage, temperature, coolant flow, current flow, and outflow functions. Modern systems frequently can link with a laptop or human-machine interface (HMI) to facilitate maintenance and fulfill various regulatory requirements.
As per VANTAGE Business Insights' report, the worldwide battery management system market was valued at $7,307.12 million in 2022 and is projected to reach $27,841.09 million by 2030. The market is anticipated to grow at a robust compound annual growth rate (CAGR) of 18.20% throughout the forecast period. As the importance of BMS is becoming more and more known, choosing a qualified supplier is becoming more and more important. This blog lists the top 10 BMS manufacturers globally for your reference.
Importance of Choosing the Right BMS Manufacturers
The boom in battery management systems is due on the one hand to the increasing adoption of electric and hybrid vehicles and increasing urbanization, and on the other hand to the growing demand for sustainable energy storage. Battery management system in recent years has quickly become a hot industry, in the face of many suppliers, choose the most suitable for us why so important, let us look at the benefits of choosing a qualified supplier.
Customization for Specific Applications: An experienced BMS supplier can provide tailored solutions to meet the unique needs of different industries, whether it's electric vehicles, renewable energy systems, aerospace, or telecommunications.
Timely Response to Product Inquiries: Selecting a qualified supplier who can ensure that each encountered BMS product question is answered in a timely and satisfactory manner demonstrates a supplier's commitment to customer service, which contributes to a positive working relationship.
High-Quality Certified Products: Reliable battery management system suppliers ensure the highest quality and safety standards for BMS components, thereby reducing the risk of battery failure and accidents. In addition, working with the right manufacturer can improve battery performance, extend service life and improve energy efficiency.
Guidance and After-Sales Support: A good supplier is willing to assist with installation, setup, and any technical challenges that may arise during operation. Attentive after-sales support ensures that you get help when you need it, resulting in a smoother BMS experience and better overall performance.
Top 10 BMS Manufacturers Globally
Leclanché is a Swiss Lithium-ion cells and energy storage solutions company founded in Leclanché, with its headquarters located in Yverdon-Les-Bains, Switzerland, specializes in the production of large-format lithium-ion cells, utilizing licensed ceramic separator technology and a strong focus on lithium-titanate technology. The company is publicly listed as LECN (SWX) on the Swiss stock market. As of 2011, Leclanché employed 113 individuals and operated several subsidiaries, including Leclanché Lithium GmbH, Leclanché Gmbh, Leclanche North America, Inc, and Leclanché BVBA.
MOKOEnergyis a battery management system company established in China in 2006, which is dedicated to designing, developing, manufacturing, and supplying best-in-class BMS and Photovoltaic Inverters. At present, the company offers an extensive array of BMS products catering to various sectors such as energy storage, electric vehicles, backup power, industrial applications, and cascade utilization. MOKOEnergy is one of the best battery management system manufacturers, offering a diverse range of BMS customization options (customizable options: brand, specification, appearance, performance, etc.). Moreover, MOKOEnergy is certified by SGS ISO14001, ISO9001, QC08000, and TS16949.
Established in 1997, Nuvation Engineering is a company specializing in electronic design services, encompassing hardware design, software development, and FPGA design, primarily catering to electronic product development. With an impressive track record spanning two decades, Nuvation Engineering has successfully served more than 400 clients and executed over 1000 engineering design projects.
In the 2020 Fortune 500 list, Intel Corporation secured the 45th position, making it one of the largest U.S. companies in terms of revenue from 2007 to 2016. In 2019, Intel made a significant announcement by unveiling the inaugural Battery Management System's reference design and application note, developed in collaboration with the University of Pisa. This innovative BMS incorporates a real-time control system based on FPGA technology, offering manufacturers the flexibility to expand its functionalities to include battery health monitoring and cell balancing. To estimate the State of Charge (SOC) values for 96 cells, the system employs a Dual Extended Kalman Filter (DEKF) algorithm, utilizing the MAX 10 development kit.
Bosch Corporation is a global engineering and technology company that operates across various sectors, including industrial technology, energy, mobility (both hardware and software), and consumer goods. In 2021, Bosch introduced its passenger segment portfolio dedicated to electrification. This portfolio encompasses innovative products such as e-axles, advanced driving modules, battery management, and thermal management systems, as well as fuel management and cell systems.
Denso Corporation, originally known as Nippon Denso Co. Ltd., is a global automotive component manufacturer founded in 1949. Following its separation from Toyota, it became an independent entity, with Toyota retaining a 25% ownership stake in the company. Denso Corporation has an extensive presence with 200 consolidated subsidiaries spread across Japan, North America, Europe, Asia, and Oceania. In October 2020, Denso achieved a significant milestone by developing an advanced integrated IC (Integrated Circuit) for lithium-ion batteries.
SK Innovation, a South Korean multinational firm affiliated with the SK group of companies involved in petroleum, oil extractions, and other alternative energy ventures, primarily focuses on advancing alternative energy solutions, including batteries and energy storage systems. With a successful track record in the alternative energy sector, the company seamlessly ventured into the development of battery management systems and achieved remarkable success.
BYD, a multinational company in the Chinese automobile industry, is primarily dedicated to the advancement of electric vehicles. Established in 2003, its main headquarters are situated in Shenzhen, China. Collaborating with Toyota, BYD has been actively involved in the development of various electric vehicles. Subsequently, they ventured into creating battery management systems for these electric vehicles, achieving remarkable success. This led them to introduce subsequent products, propelling BYD to become one of the leading manufacturers of battery management systems globally.
Panasonic, a renowned Japanese multinational corporation, holds the distinction of being the world's largest lithium battery bms manufacturer

. Established in 2008, its headquarters are based in Japan. The company gained widespread recognition for its production of lithium-ion batteries tailored for electric vehicles. This venture proved to be highly successful for them, and they subsequently ventured into developing battery management systems specifically designed for vehicles equipped with lithium-ion batteries. This product played a pivotal role in their remarkable achievements. As they progressed, they also focused on creating battery monitoring integrated circuits to enable automated operations within their battery management systems.

LG Chem is a prominent South Korean chemical company with a primary focus on producing chemicals and batteries. Recognized as one of the leading chemical companies globally, LG Chem has achieved significant success in producing battery systems and energy storage solutions for electric vehicles. By manufacturing battery management systems (BMS), the company experienced substantial revenue growth in 2021. Furthermore, LG Chem has been the preferred BMS provider for several top automobile manufacturers.
Factors to Consider When Choosing BMS Manufacturers
Choosing a good supplier can answer your questions about the product in time and provide you with optional options according to your needs and analyze the advantages and disadvantages for you to help you make a better choice. So what other factors must be considered when choosing a manufacturer?
Technical Expertise and Experience: Look for a manufacturer with a proven track record of technical expertise and experience in designing and producing BMS solutions. The likelihood of receiving dependable and top-notch products increases when opting for a well-established and seasoned manufacturer.
Industry Reputation and Customer Reviews: Investigate the BMS brand's standing within the industry and seek out customer reviews and testimonials. Positive feedback from other users can provide insights into the manufacturer's product quality and customer satisfaction.
Safety and Protection Features: Battery safety is critical. Verify that the BMS manufacturer implements comprehensive safety and protection features such as overcharge protection, over-discharge protection, short-circuit protection, temperature monitoring, and cell balancing.
Cost-Effectiveness: Although price is a factor to consider, it should not be the only determining aspect. Opting for a cheaper, but unreliable BMS may lead to higher maintenance costs, decreased system efficiency, and potential safety risks in the long run. Investing in a quality BMS from a reputable manufacturer can save costs over the system's lifetime and provide a better return on investment.
Innovation and Future-Proofing: Consider whether the BMS manufacturer stays up-to-date with the latest technologies and innovations in the industry. Choosing a forward-thinking manufacturer ensures that your BMS solution remains relevant and adaptable to future advancements.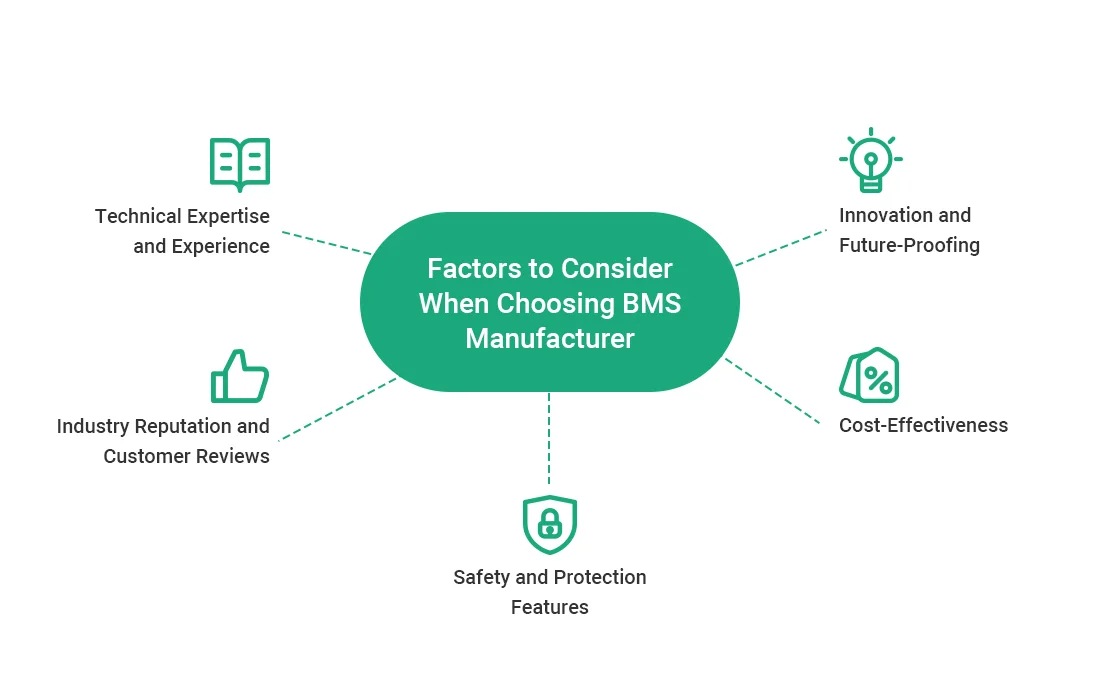 MOKOEnergy: A Reliable Manufacturer
MOKOEnergy is one of the best BMS manufacturers in China that specializes in the research, development, manufacturing, and distribution of cutting-edge battery management technology. With a focus on the new energy industry, energy storage, and other critical sectors, MOKOEnergy centers its efforts around pioneering new energy battery management solutions, creating a diverse portfolio of industrialized battery management technologies and products.
Our BMS products have found extensive applications in various fields, including energy storage systems, electric vehicles, and backup power solutions across industrial markets. As a prominent third-party BMS company, MOKOEnergy has maintained a strong commitment to advancing industry-leading BMS technology. They continually push the boundaries of BMS capabilities, striving for deeper innovations and breakthroughs in the field.
In 2022, MOKOEnergy's cumulative energy storage BMS shipments exceeded 10 GWh, with more than 500 projects, ranking second in third-party BMS shipments.
MOKOEnergy's battery management system goes beyond standard battery energy management and thermal regulation by incorporating automatic cell balancing for batteries. Our team has rich practical experience and innovation in various battery harvesting technologies, bi-directional DC/DC active balancing technologies, SOX technologies especially SOC and SOH technologies, IEC61850 technologies, EMC/EMI technologies, and so on.
Conclusion
Choosing the right BMS manufacturer is a critical step in realizing the full potential of battery technology. The top 10 BMS manufacturer globally mentioned in this blog have proven their expertise in the field, and MOKOEnergy stands out as a reliable supplier of advanced BMS solutions for various industries. When selecting a BMS manufacturer, take into account the aforementioned factors and make a well-informed choice to guarantee the success of your energy storage project. Please contact us directly for more information!
CONTINUE READING ABOUT THE BATTERY MANAGEMENT SYSTEM MANUFACTURERS