The electric vehicle battery management system market is expected to grow from $8.81 billion in 2023 to $37.71 billion in 2028, with a CAGR of 33.76% during the forecast period from 2023 to 2028. This market's growth can be attributed to the increasing adoption of electric vehicles, a rising concern for safety issues associated with EV batteries, and a growing demand for higher efficiency and performance from battery packs. In fact, both electric vehicles and energy storage systems heavily rely on the empowering role of BMS. A well-designed BMS can significantly enhance the efficiency and lifespan of battery packs, making BMS a crucial component that, when applied to automobiles, improves overall vehicle performance and energy conservation.
However, the lack of standardized regulations for developing battery management systems and the high cost associated with them are expected to restrain the growth of this market. Additionally, the complex architecture of BMS and its limited data recording capabilities pose challenges to this market. Today, through this article, let's delve deeper into the current status and solutions of electric vehicle battery management systems in various countries.
What is an EV BMS?
The Electric Vehicle BMS plays a crucial role in connecting the onboard power battery and the EV itself. It actively gathers, processes, and stores critical data while the battery pack operates, and it communicates with external devices like vehicle controllers to address key concerns in lithium battery systems, including safety, usability, availability, and lifespan. Its main responsibilities include optimizing battery utilization, preventing overcharging and over-discharging, extending battery lifespan, and monitoring battery health. In simpler terms, it's a system that manages, controls and utilizes battery packs.
Overview of the Electric Vehicle Battery Management System Market
Global Power Battery Installed Capacity
Thanks to the rapid advancement of electric vehicles in China and Europe markets, global new energy vehicle sales have surged since 2016, leading to a simultaneous increase in installed power battery capacity. In 2022, global power battery installation reached 517.9 GWh, marking a 71.8% year-on-year increase. China's power battery installation reached 260 GWh, growing by 86%, surpassing the global average growth rate.
In the first half of 2023, global power battery installation reached 304.3 GWh, with a year-on-year increase of 50.1%. In China, power battery installation reached 142 GWh, with a year-on-year growth of 42%.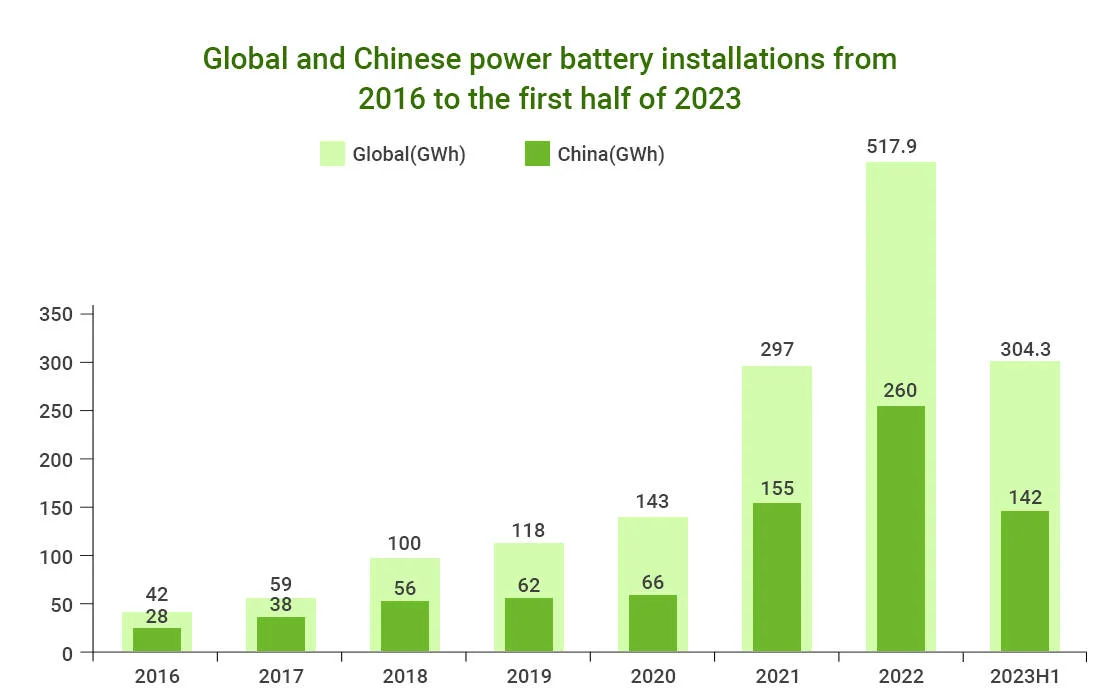 Electric Vehicle Battery Management System Market Analysis
The global electric vehicle Battery management systems market size is expected to reach USD 37.71 billion in 2028, growing at a CAGR of 33.76% in revenue during the forecast period. Growing environmental awareness regarding the use of fossil fuels for driving vehicles is shifting preferences toward eco-friendly vehicles, leading to an increase in the manufacturing and sales of EVs and PHEVs, which is boosting the revenue growth of the electric vehicle battery management system market. EVs can cut gasoline use by as much as 75%. For example, the IEA report points out, that by 2023, the global electric car inventory will be 14 million vehicles, up 35% from a year earlier, accounting for about 18% of the annual car sales.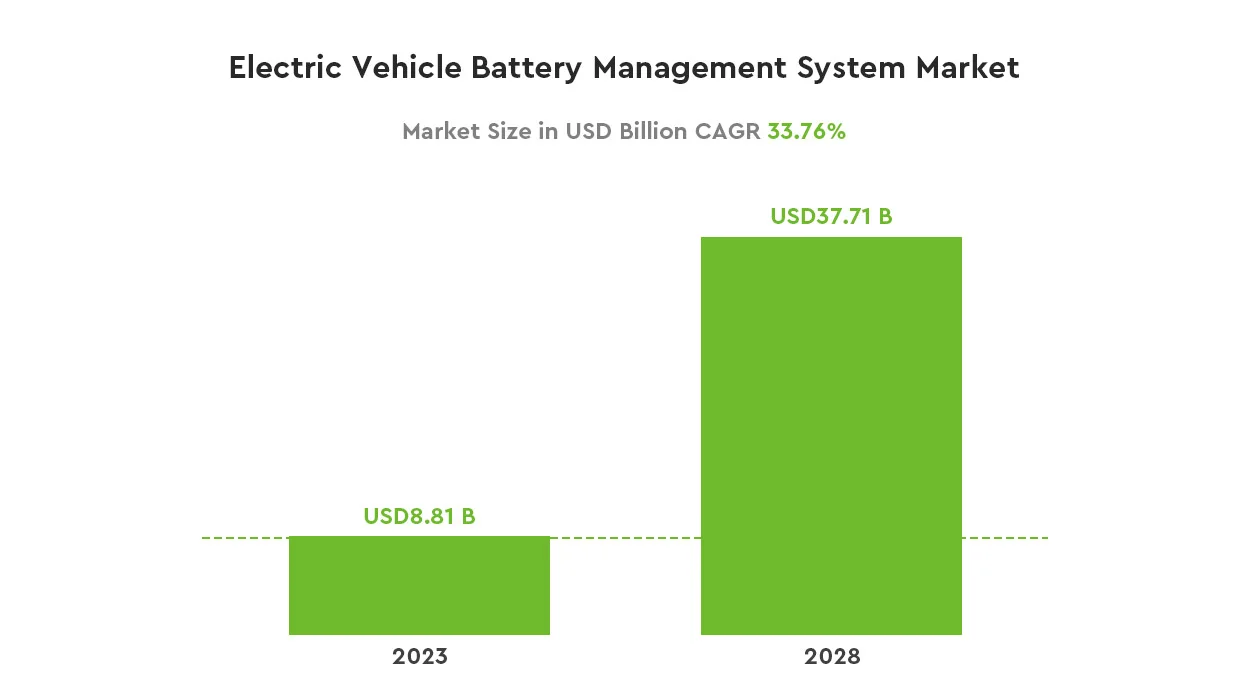 Due to the adoption of electric cars, more and more, a globe on the BMS demand is expected to grow rapidly. The Asia Pacific region is ready to lead in the BMS market. This is because of rapid industrialization and urbanization, along with rising demand for electric vehicles in countries like China and India. North America and Europe will also see substantial BMS market growth. The shift in buyers' preferences toward a cleaner environment will drive EVBMS revenue growth during the forecast period.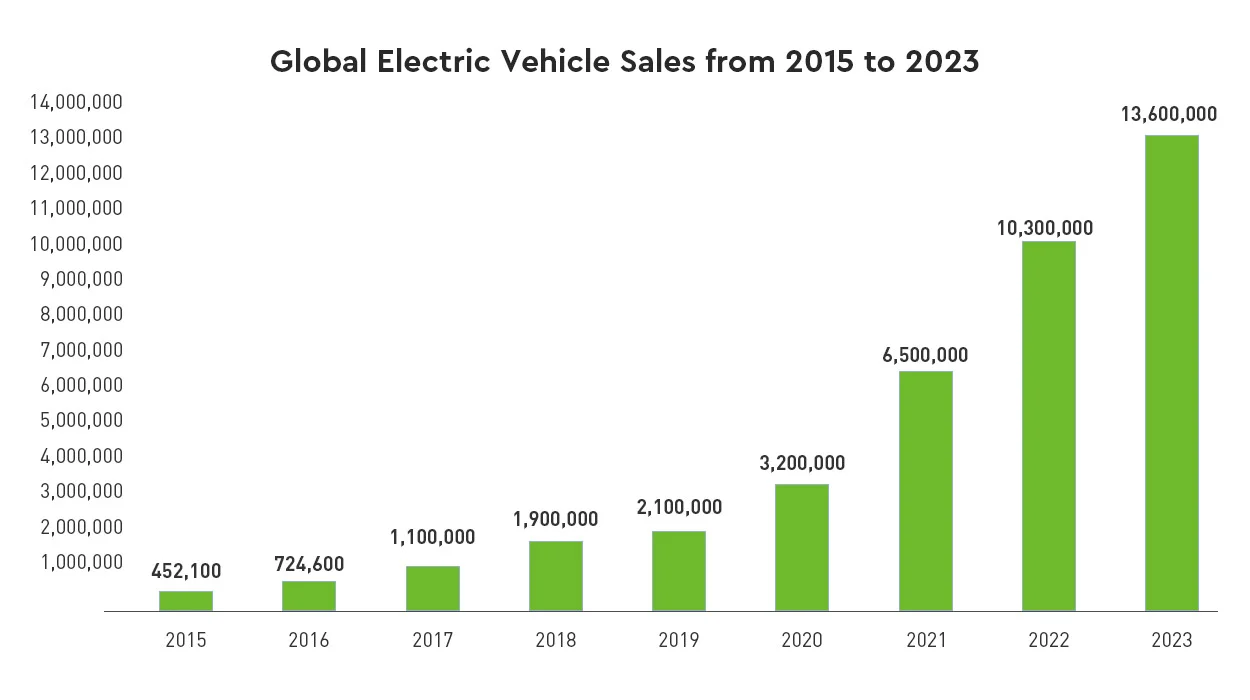 Electric vehicle battery management system market segmentation
The global EV BMS market can be segmented based on vehicle, application type, and region type.
Vehicle
The global EV BMS market is divided into battery EVs and HEVs based on vehicle type. By the end of 2035, it is expected that the battery EVs segment will generate the highest revenue, expanding at a substantial compound annual growth rate during the forecast period. The growth of this segment is attributed to governments increasingly persuading more of the world to adopt electric vehicles. On the other hand, based on types, the market is divided into Lead-Acid, Redox Flow, and Lithium-Ion. Lithium-ion batteries are expected to lead market growth among these three battery types.
Application
The global EV BMS market is segmented based on applications, including voltage monitoring, temperature sensors, current management, and discharge monitoring. Based on application, the voltage monitoring application in the EV BMS market accounts for a significant market share. We must assess the battery system's viability. We use battery voltage monitoring to ensure the battery operates effectively, thus achieving a long lifespan. The operating voltage of lithium-ion batteries ranges from 2.5 to 4.2 volts. Operating the battery outside this voltage range drastically reduces its lifespan, shortening cell life and potentially rendering it unsuitable for use. Increasing the total driving current is achieved by connecting battery cells in parallel while increasing the total voltage is achieved by connecting them in series.
Region
By 2035, the European EV BMS market is poised to generate substantial revenue, segmented by region. European nations have established ambitious goals for reducing greenhouse gas emissions and addressing air pollution. Strict environmental policies are required to make the transition to cleaner transportation mode. It accelerates the adoption of electric vehicles and leads to the demand for BMS in the region. Furthermore, this market is primarily led by revenue shares from North America, followed by the Asia-Pacific region.
Opportunities and Challenges for EV BMS
With the growing demand for electric vehicles, the future is facing both opportunities and challenges, so let's take a look.
Opportunities
EV Sales Continue to Grow
No electric cars, the automobile industry will not be able to run, and it to improve energy efficiency and reduce emissions of greenhouse gases and other pollutants provides a way. The increasing environmental concerns and practical government measures are the primary drivers behind this rise. Governments have launched several programs and initiatives across the globe to encourage consumers to choose electric vehicles over conventional cars. California State's ZEV program, which aims to achieve a presence of 1.5 million EVs on the road by 2025, is one of the initiatives designed to boost EV purchases. Due to government laws and incentive programs, the likelihood of people buying electric cars is significantly higher than traditional internal combustion engine vehicles. This shift has not caused a decline in sales of internal combustion engine vehicles; instead, it has created a promising market for EVs both now and in the future.
Increasing Investments in EVs
The electric vehicle battery management system market is growing as an increasing number of automakers and businesses in related industries view electric vehicles as investment opportunities. Within the scope of the expected time, expect route change. Automakers are planning to increase the release of EVs, collaborate with other companies, and make investments to establish a competitive advantage in the market. The two companies plan to invest extensively in EVs and their components across the globe, which is expected to drive the EV battery management system market.
Subsidies and supportive government policies
Governments worldwide are actively enacting laws to promote the adoption of EVs as a result of the rapid global expansion of EVs. China, India, France, and the UK plan to completely discontinue the production of petrol and diesel cars by 2040. China, as a pioneer in electric car production, benefits from government subsidies and favorable policies that started over a decade ago. Furthermore, increased investments in electric vehicle production and associated components like batteries are anticipated to boost market demand. For instance, Daimler announced a new investment plan of €70 billion or $85 billion from 2021 to 2025 to introduce 30 electric cars, including 20 fully EVs.
Challenges
Extra Production Costs
Depending on the vehicle design and type, the BMS in automobiles adds extra production expenses. Additionally, components of the battery management system require proper cooling to function efficiently. All batteries must connect directly to the BMS since the BMS needs numerous contact points with all battery pack interfaces. Therefore, the use of BMS may lead to the final cost of a product or application significantly, which may lead to cost-conscious consumer demand is reduced, and the negative impact of the use of BMS product manufacturers, although they have proven benefits. For example, electric vehicles cost 25-30% more than conventional cars. Higher costs often limit market growth.
Limited Number of Electric Vehicle Charging Stations
Electric vehicles and PHEVs require electricity to operate, necessitating recharging after use. Most countries on the global map do not have an adequate number of charging stations, posing a severe constraint to the adoption of EVs. For instance, as of January 13, 2022, according to a Statista report, California stood out as the only exceptional state concerning plug-in electric vehicle sales in the United States. A significant number of home and workplace charging outlets are still privately owned, while other states lag behind. This represents the current situation in one of the world's most advanced countries, while many other developing and underdeveloped nations are still working to educate their populations about electric vehicles and PHEVs. A lack of awareness continues to impede the growth of market revenue significantly.
Electric Vehicle Battery Management System Market dynamics
Battery Electric Vehicle Segment Anticipated to Dominate the Market
Governments worldwide have actively crafted policies to promote the uptake of EVs. China, India, France, and Britain have announced plans to completely eliminate gasoline and diesel vehicles by 2040. As the demand for EVs continues to rise, it will gradually increase the need for BMSs.
The global adoption of electric vehicles is steadily increasing, leading freight carriers to actively transition their current fleets into electric propulsion-based vehicles. OEMs are reimagining their electric vehicle strategies, which will actively contribute to the expansion of the target market.
Regulators have put in place stringent regulations to lower fuel emissions and improve road safety. Moreover, the target market has the potential to penetrate and capitalize on consumers' preferences for environmentally sustainable transportation and reduced carbon emissions during the forecast period.
Europe Expected to Hold Significant Share in the Market
Moreover, consumers' preference for eco-friendly and energy-efficient transportation is poised to create potential market entry opportunities in the foreseeable future. Europe stands as one of the world's largest EV markets, with electric vehicle demand surging across all countries, thereby fueling the need for BMSs in the region. The increasing sales of hybrid and electric passenger vehicles, coupled with rising government support, are anticipated to boost market demand. For instance, France has signed the Global EV Initiative, aiming to make 20% of road vehicles emission-free by 2030.
Moreover, the automotive battery management system market growth is increasingly prioritizing lightweight vehicles, emphasizing the need for weight reduction. As the demand for lightweight vehicles increases, the EV BMSs are undergoing a transition, with several players focusing on this aspect. In March 2020, LION E Mobility AG and Sogefi announced they would merge LION's battery management system and module design technology with Sogefi's industrial and automotive cooling components, along with their global sales and distribution capabilities. Because of the promising market opportunities, numerous local manufacturers are partnering with other firms in the industry to establish joint ventures.
MOKOEnergy: A Trustworthy BMS Board Manufacturer
When it comes to the BMS Board, MOKOEnergy is undoubtedly a trustworthy supplier. With up to 17 years of R&D experience, our products are used in green energy storage, renewable energy, portable devices, and other application scenarios in addition to electric vehicles, and we have formed friendly partnerships with many countries.
Furthermore, our team of over 70 R&D personnel remains actively involved in ongoing research and development initiatives aimed at implementing essential modifications and launching new products. Electric and hybrid vehicles are receiving growing interest due to their ability to provide various benefits, including precise SOC and SOH estimation, robust charge and discharge safeguards, IoT-enabled battery balancing, data analysis, and temperature monitoring to ensure the battery's safety in potentially harmful and ineffective operational conditions.
As BMS is a critical technology for electric vehicles, MOKOEnergy will focus more on the following two aspects in the future:
More Accurate SOC
SOC is a key parameter throughout the entire journey of an electric vehicle. How to create a more accurate mathematical analysis model for predicting and analyzing battery SOC according to the collection of working voltage, battery charging current, temperature and other data information of each battery in the battery pack will be the key direction of future research on battery intelligent management systems.
Improved BMS Balancing Capability
A battery pack consists of many connected individual cells, and it is challenging to ensure that each cell is exactly identical during production. Even batteries of the same model and specifications may have differences in physical parameters such as working voltage, resistance, and battery capacity. After several times of battery charging, the battery will be more and more unbalanced, which seriously endangers the application efficiency and safety factor of the battery pack. Therefore, how to compensate for the inconsistency of battery charging and maintain the relativity consistency among batteries will be another focus of the development of battery intelligent management systems in the future.
Conclusion
Currently, the electric vehicle battery management system market remains very strong. The makers, and parts suppliers, such as scientific research units have continued to intensify research and development. In the future competition of electric vehicles, possessing a battery management system that is both performance-reliable and cost-effective will be a key competitive advantage. Choose MOKOEnergy to help you boost the sales of electric vehicles more efficiently and ensure the safety of your EV batteries. If you have any questions, please don't hesitate to contact us, and we can offer you the most suitable BMS solution.
CONTINUE READING ABOUT THE EV BMS MARKET