In the face of modern energy challenges, the pursuit of sustainable solutions has gained unprecedented momentum. The adoption of new energy sources is now considered a cornerstone in mitigating our energy woes. Among these solutions, energy storage systems have emerged as a focal point of innovation and discussion within the realm of new energy applications. At the heart of these systems lies a critical component—the battery. As we explore the world of energy storage, it's essential to understand the pivotal role played by energy storage BMS manufacturers, as they shape the landscape of efficient energy utilization and conservation.
Energy storage BMS, short for Battery Management System, is the key to the design and operation of battery energy storage systems. It encompasses a range of functions, including battery charging and discharging control, real-time monitoring of parameters like temperature and voltage, State of Charge (SOC), State of Health (SOH), and other battery state estimation, and the implementation of essential protection measures. In this blog, we will talk about the top energy storage BMS manufacturers in the world and in China. We will show how they play in optimizing battery performance, making energy storage more efficient, and advancing the cause of sustainable energy solutions.
Global Top10 Energy Storage BMS Manufacturers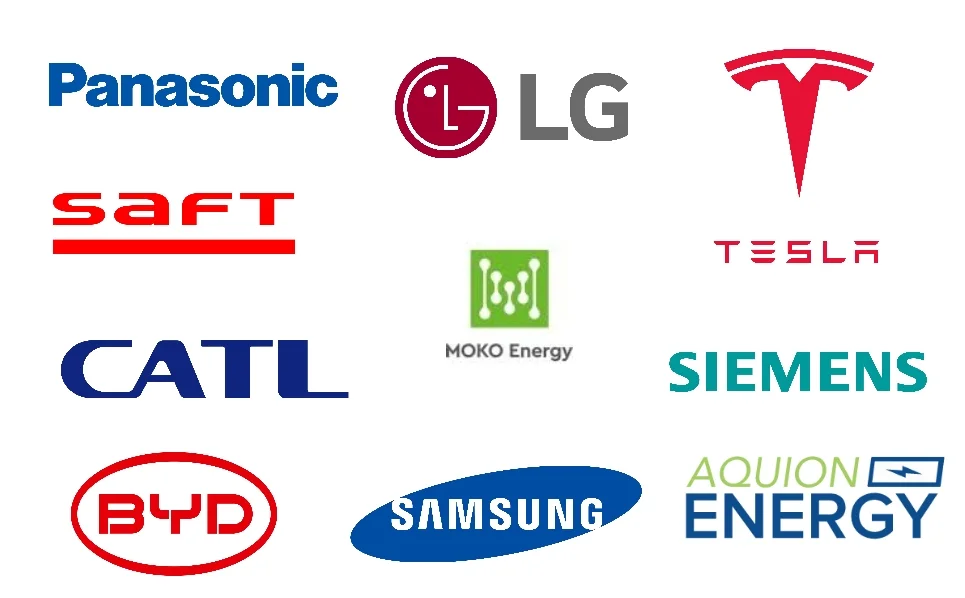 Tesla
Renowned for high-performance batteries and innovative energy management technology.
Offers Powerwall and Powerpack for residential, commercial, and utility-scale applications.
Known for reliability, efficiency, and integration with renewable energy sources.
LG Chem
Specializes in the production of lithium-ion batteries.
Known for longevity and efficiency, ideal for various applications.
Provides consistent and reliable power over an extended lifespan.
BYD
Designs and manufactures battery-electric vehicles and energy storage solutions.
Widely used in electric cars, buses, and solar energy storage systems.
Focus on innovation and sustainability for clean energy solutions.
Samsung SDI
Produces high-performance lithium-ion batteries for electric vehicles and energy storage systems.
Offers remarkable energy density and durability.
Preferred choice for electric vehicle manufacturers and energy storage projects.
Panasonic
Offers diverse energy storage solutions from residential to large-scale commercial and utility-scale storage.
Known for exceptional performance and long-lasting energy storage capabilities.
A prominent player in the energy storage market.
Mokoenergy
A global leader in BMS and energy storage solutions.
Provides secure, reliable, and cost-effective energy storage solutions for various customers.
Expertise in power electronics and grid integration for grid stabilization and peak demand management.
Siemens
Offers various energy storage solutions, including battery energy storage systems, pumped hydro storage, and compressed air energy storage.
Focus on high-performance and cost-effective solutions for grid stability and renewable energy integration.
Extensive experience in industrial and power technology.
CATL (Contemporary Amperex Technology Co., Limited)
Specializes in manufacturing lithium-ion batteries with innovative technology.
Collaborates with leading automakers worldwide for electric vehicle batteries.
Provides high energy density, reliability, and longevity.
Saft Batteries
Produces advanced battery technologies for industrial and specialty applications.
Known for long life, high performance, and reliability.
Suitable for critical applications such as backup power systems and telecommunications.
Aquion Energy
Utilizes saltwater-based battery technology in energy storage systems.
Celebrated for affordability, high performance, and extended lifespan.
Focus on sustainability and eco-friendly materials for cost-effective and environmentally friendly energy storage solutions.
Top10 Energy Storage BMS Manufacturers in China
In 2022, China saw a significant increase in energy storage lithium battery shipments, reaching 130 GWh, with a remarkable year-on-year growth rate of 170%. Energy storage Battery Management Systems (BMS) have gained importance as core components of electrochemical energy storage systems, driven by policies and market demand. A market prediction anticipates that China's energy storage BMS market value will grow at a CAGR of 18.9% from 2023 to 2032. The article lists the top 10 energy storage BMS companies in China, which are at the forefront of this growing industry:
| | | |
| --- | --- | --- |
| Company Name | Founded | Specialization and Products/Services |
| Gold Electronics | 1998 | Battery testing equipment and BMS with international certifications |
| MOKO Energy | 2006 | Energy storage BMS, PV Inverter |
| Kegong Electronic | 2015 | New energy products, energy storage systems, microgrid monitoring |
| Tian-Power | 2007 | Designing and manufacturing li-ion PCM and BMS |
| BMSER Technology | 2012 | R&D and production of new energy battery management technology |
| Hanloon Energy | 2015 | Grid-side large-scale energy storage, new energy EVs, mobile energy storage |
| Huasu | 2005 | Lead-acid battery BMS, energy storage lithium battery BMS, EV power battery BMS |
| Qualtech | 2011 | Control systems in the new energy market, designing, manufacturing, and selling BMS |
| Klclear | 2020 | R&D, design, manufacturing, sales, and service of power energy storage products |
| LiTongwei Electronics | 2005 | R&D, production, sales, and service on lithium-battery protection modules, BMS, and more |
Gold Electronics: Specializes in battery testing equipment and BMS, with international certifications and applications in electric vehicles and storage systems.
Moko Energy: A national technology enterprise specializing in energy storage BMS and related products.
Kegong Electronic: Focuses on new energy products, energy storage BMS, and microgrid monitoring systems.
4. Tian-Power: A high-tech company specializing in li-ion PCM and BMS manufacturing.
5. BMSER Technology: Engaged in R&D and production of new energy battery management technology, offering BMS products for various applications.
6. Hanloon Energy: Concentrates on grid-side large-scale energy storage and power station solutions.
7. Huasu: Specializes in lead-acid battery BMS, energy storage lithium battery BMS, and related services.
8. Qualtech: A leading high-tech company focusing on control systems in the new energy market, producing BMS and related products.
9. Klclear: Focuses on power energy storage products and provides BMS equipment, energy storage battery systems, and more.
LiTongwei Electronics: A professional national high-tech enterprise specializing in R&D, production, and sales of various battery management systems.
Factors to Consider When Choosing An Energy Storage BMS Manufacturer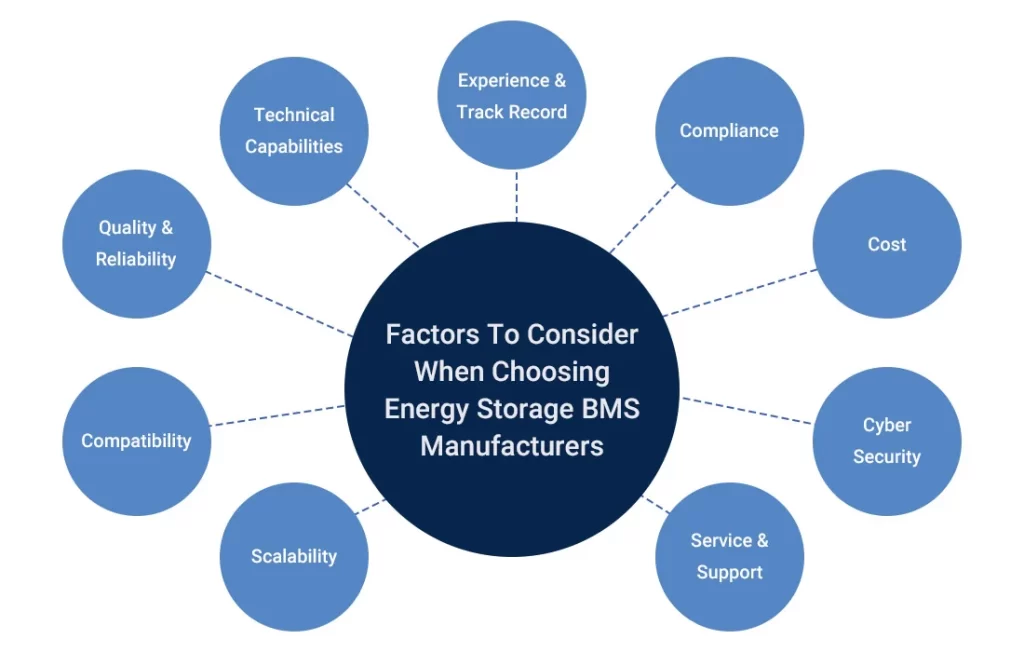 For over a decade, Mokoenergy has been leading the way in battery management systems (BMS) for energy storage. With our own R&D team and manufacturing facility, we have deep expertise across lithium BMS, EV charging, and solar inverters.
Our BMS solutions power residential solar batteries, commercial energy storage, and utility-scale systems. We understand the unique needs of each application and design robust, efficient products that maximize performance and safety.
Whether you need a BMS for solar self-consumption, peak shaving, or backup power, Mokoenergy delivers. Our experience translating R&D into real-world solutions is unmatched. We provide comprehensive service and support from design through deployment and operation.
Looking for a stable, field-proven BMS? Contact our experts today to learn how Mokoenergy can meet your energy storage needs. With over a decade of experience, we have the knowledge and capability to design the ideal BMS for your next project.