In the ever-advancing world of renewable energy, the role of Battery Energy Storage System (BESS) has become paramount. As we transition towards a more sustainable and environmentally conscious future, the ability to efficiently store and manage energy from renewable sources has never been more critical. Battery energy storage systems are the unsung heroes of this transition, providing stability to power grids, reducing carbon emissions, and unlocking the full potential of clean energy sources. The global demand for renewable energy has led to the rise of battery energy storage system companies, also called BESS companies, which are pivotal for efficient and reliable energy storage. In this blog, we will list the top 10 leading companies in the BESS industry based on their technical prowess and market presence.
*The ranking does not depend on the company's strength, and each company has unique strengths and contributions to the sector.
List of Top 10 Battery Energy Storage System Companies
| | | | |
| --- | --- | --- | --- |
| Company Name | Founded | Headquarters | Key Products/Services |
| BYD | 1995 | Shenzhen, China | Electric vehicles |
| Tesla Inc. | 2003 | Austin, Texas, USA | Electric vehicles, energy storage systems, clean energy products |
| Moko Energy | 2006 | Shenzhen, China | BMS, Energy storage solution, Energy management solution |
| Samsung SDI Co Ltd | 1970 | South Korea | Batteries, electronic materials |
| Contemporary Amperex Technology Co., Limited (CATL) | 2011 | Ningde, China | EV battery technology |
| LG Chem Ltd. | 1947 | South Korea | EV battery cells, energy storage solutions |
| Panasonic Corporation | 1918 | Japan | Lithium-ion batteries for electric vehicles |
| Fluence Energy, Inc. | 2018 | Arlington, Virginia, USA | Energy storage products and services |
| Amp Nova | 2008 | Shenzhen, China | Solar power, microgrids, home energy storage, industrial batteries |
| TotalEnergies | 1924 | Paris, France | Clean energy solutions, sustainable technologies |
BYD (1995)
BYD Co. Ltd. operates through two major subsidiaries, BYD Auto and BYD Electronic. It is engaged in the manufacturing of a diverse range of products.  Now it holds the distinction of being the world's largest electric vehicle manufacturer and has significantly expanded its portfolio to include battery-powered bicycles, solar panels, and various rechargeable batteries.
Tesla Inc.(2003)
Tesla Inc. is a well-known entity in the automotive and energy sectors. The company is involved in the entire process of designing, developing, manufacturing, selling, and leasing electric vehicles as well as energy generation and storage systems.  Beyond automobiles, Tesla is engaged in the installation and maintenance of energy systems, and the sale of solar electricity. It offers a comprehensive suite of clean energy solutions that span generation, storage, and consumption.
MOKO Energy
Established in China in 2006, MOKOEnergy is a top-tier company specializing in the design, development, manufacturing, and supply of cutting-edge Battery Energy Storage Systems and Photovoltaic Inverters. The company boasts an extensive product line of BMS solutions catering to various energy storage sectors, including electric vehicles, backup power, industrial applications, and cascade utilization. As one of China's premier lithium-ion battery manufacturers, MOKOEnergy stands out for its diverse BMS customization offerings, allowing for brand, specification, appearance, and performance customization. The company holds certifications from SGS, including ISO14001, ISO9001, QC08000, and TS16949, underlining its commitment to quality and excellence.
Samsung SDI Co Ltd (1970)
Samsung SDI is a global leader in lithium-ion batteries, semiconductors, electronic materials, and OLED displays. With R&D and manufacturing worldwide, the company develops and supplies innovative products like small batteries for IT devices, automotive batteries, chips enabling advanced computing, specialized electronic materials, and OLED technology for displays. Samsung SDI serves customers in Korea, North America, Europe, China, Southeast Asia, and beyond.
Contemporary Amperex Technology Co., Limited (CATL) (2011)
CATL is a global company dedicated to new energy solutions. With a strong history of innovation in lithium-ion battery technology, CATL develops premier products and services for electric vehicles, IT devices, and energy storage systems worldwide. By leveraging its expertise in advanced battery systems, CATL aims to enable cleaner and more sustainable energy use across applications. The company envisions a greener world made possible through its industry-leading new energy technologies and solutions.
LG Chem Ltd. (1947)
LG Chem is a leading Korean chemical company with over 70 years of expertise and innovation. Originally founded in 1947, LG Chem has grown into a global leader in petrochemicals, IT materials, electronic materials, and energy solutions. Leveraging its diverse manufacturing and R&D capabilities, LG Chem produces globally competitive products ranging from petrochemicals like ABS to advanced electronic materials like polarizers and cutting-edge battery cells for electric vehicles. With a worldwide presence in production, sales, and research, LG Chem continues to deliver quality chemical solutions that advance industries and improve lives.
Panasonic Corporation (1918)
Panasonic Corporation, previously known as Matsushita Electric Industrial Co., Ltd., is a prominent Japanese multinational electronics corporation with its headquarters located in Kadoma, Osaka, Japan. Established by Konosuke Matsushita in 1918, Panasonic has evolved into one of Japan's leading electronics manufacturers, sharing the stage with industry giants like Sony, Hitachi, Toshiba, and Canon Inc. The company's diverse product portfolio spans across consumer electronics, home appliances, automotive infotainment systems, and industrial solutions.
Fluence Energy, Inc. (2018)
Fluence is a prominent energy storage technology firm committed to reshaping the way we power our world and advancing sustainability. Rooted in a problem-solving ethos and dedicated to forging enduring customer relationships while navigating the intricacies of contemporary power markets, Fluence offers established energy storage solutions, services, and digital applications tailored for renewable energy and storage, all aimed at facilitating the modernization of energy networks. This company's inception in January 2018 marked the union of two industry trailblazers in energy storage, Siemens and AES, coming together to drive innovation in the sector.
Amp Nova (2008)
Amp Nova is a BESS manufacturer distinguished by its product line, which not only meets but surpasses various industry benchmarks, including ISO, CE, UL1973, UN38.3, ROHS, and IEC62133. Amp Nova's lithium-based offerings exhibit versatility and are suited for a wide range of applications, encompassing solar power solutions, microgrids, home energy storage, and industrial battery needs.
TotalEnergies (1924)
TotalEnergies is a comprehensive battery energy storage system company characterized by its rich historical roots and pioneering ethos. Initially established to empower France's participation in the global oil and gas industry, TotalEnergies has consistently embodied a genuine spirit of innovation, solidifying its pivotal position within the energy sector. The company remains steadfast in its commitment to delivering affordable, cleaner, and more dependable energy solutions, with a focus on ensuring widespread accessibility to benefit as many people as possible.
Battery Energy Storage System Market
According to marketsandmarkets, the global Battery Energy Storage System market is estimated to be worth USD 5.4 billion in 2023 and is projected to reach USD 17.5 billion by 2028, with a compound annual growth rate (CAGR) of 26.4%. This growth is driven by factors such as grid modernization efforts, increasing use of lithium-ion batteries, and the shift towards low-carbon economies.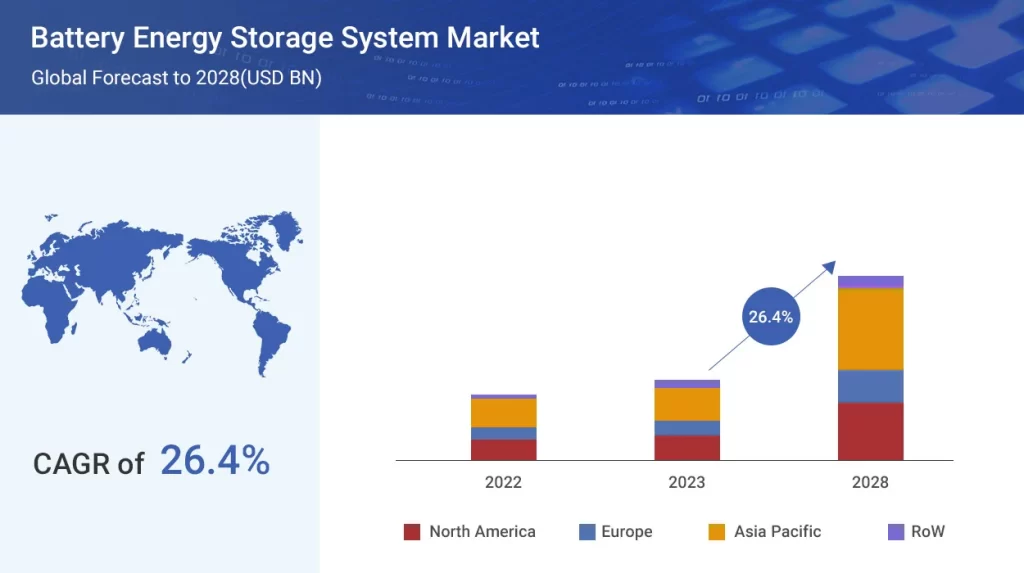 Why Choose MOKOENERGY As Your Battery Energy Storage System Companies
Selecting MOKOENERGY as your partner in the Battery Energy Storage Systems (BESS) field is a strategic decision with numerous advantages. MOKOENERGY is a renowned company with a strong track record of delivering exceptional OEM and ODM services for battery management systems. Our in-depth knowledge and a wealth of experience in the BESS sector ensure that your projects are in capable hands. We provide customized solutions to match your unique requirements, coupled with a commitment to cutting-edge technology.
Quality and reliability are paramount at MOKOENERGY, with stringent quality control measures in place to produce durable and safe battery management systems. Our dedication to cost-effectiveness ensures that you can meet your project goals without breaking the bank. Timely deliveries and responsive customer support are among the many attributes that make MOKOENERGY an outstanding partner. By choosing MOKOENERGY, you're not just entering a business relationship; you're securing a long-term partnership committed to your BESS project's success and growth.