Solar panels are well-known, but the importance of PV inverters in photovoltaic installations is often overlooked. A PV inverter is a vital electronic device that converts solar energy into usable electricity, enabling its consumption by household appliances or feeding it back into the electrical grid. It maximizes the efficiency of solar energy generation and guarantees the seamless functioning of the solar installation.
Having a deep understanding of PV inverters is essential when choosing the most appropriate one for your requirements. This article offers a comprehensive overview of PV inverters, exploring their advantages and disadvantages. Furthermore, the article emphasizes essential considerations to keep in mind when acquiring an inverter. By gaining in-depth knowledge about PV inverters, you'll be empowered to make well-informed decisions in the PV inverter market.
What is A PV Inverter?
A photovoltaic inverter is an electronic device that connects solar panels to the power grid. Its primary duty is to transform the solar panels' produced direct current (DC) electricity into alternating current (AC) electricity that may be utilized by the power grid via a power module.
How Does PV Inverter Work?
The direct current generated by the photovoltaic modules first goes through a DC filtering circuit to remove current fluctuations and electromagnetic interference, then enters the inverter circuit. The inverter circuit transforms DC into AC. This alternating current is then rectified into a sine wave alternating current. The filtering circuit at the output end filters out high-frequency interference signals produced during the inversion process. This allows the current to be connected to the grid or directly supplied to the load.
Key Components of PV Inverters
DC-AC Conversion Stage: This stage includes power electronic circuits such as transistors or thyristors that convert the DC power from the solar panels into AC power. It consists of various components like switches, capacitors, and inductors that facilitate the conversion process.
Maximum Power Point Tracking (MPPT): MPPT plays a vital role in maximizing the power generation of solar panels by optimizing their output. It constantly adjusts the operating point of the PV array to ensure it operates at its maximum power output, considering factors such as temperature and shading.
Control and Protection Circuitry: PV inverters incorporate control and protection circuitry to ensure safe and efficient operation. This includes monitoring the input and output voltage and current, temperature monitoring, and protection against overvoltage, overcurrent, and other faults.
Cooling System: Due to the heat generated during operation, PV inverters typically have cooling systems to dissipate heat and prevent overheating. This can include fans, heat sinks, or liquid cooling mechanisms.
Grid Connection Interface: PV inverters are designed to interface with the electrical grid. They include components such as transformers, circuit breakers, and filters to ensure proper synchronization with the grid and compliance with grid standards and regulations.
Communication and Monitoring: Many PV inverters feature communication interfaces (such as Ethernet, Wi-Fi, or RS485) and monitoring capabilities. These allow users to monitor the performance of the solar power inverter system, track energy production, and diagnose any potential issues remotely.
Enclosure and Housing: PV inverters are placed inside protective enclosures to safeguard the internal elements against environmental elements like dust, moisture, and extreme temperatures. The enclosure also provides electrical safety by isolating the high-voltage components.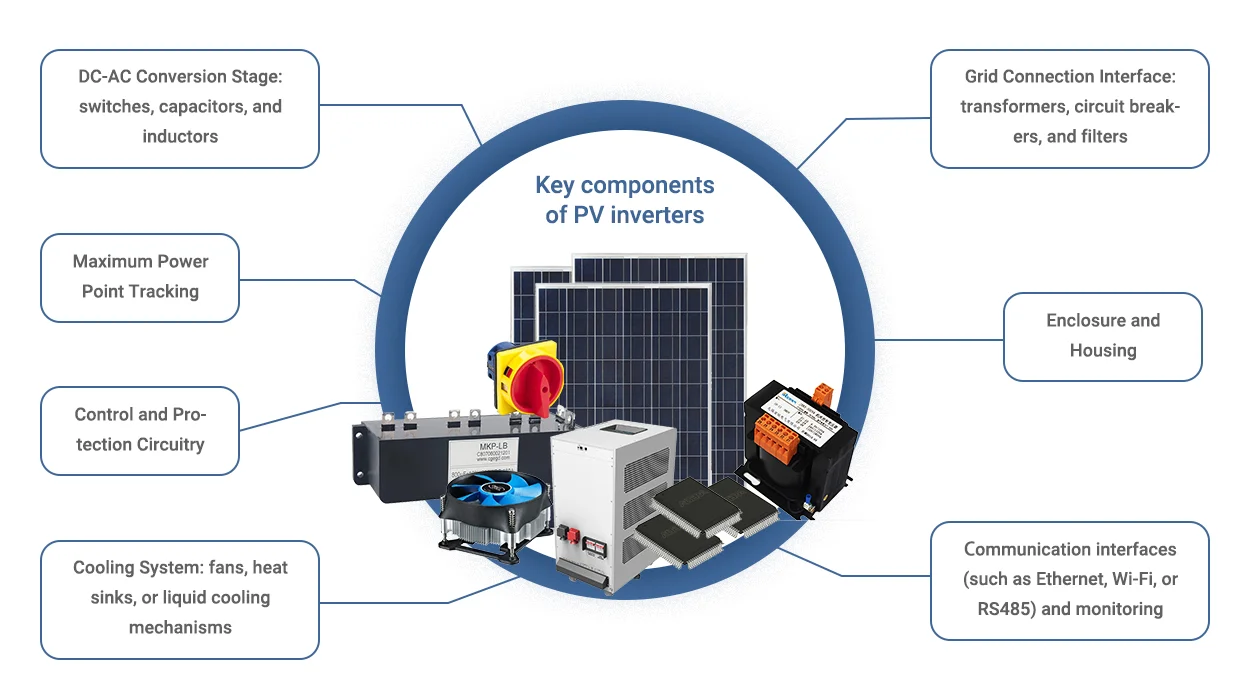 A Comparison Table of the 4 Types of PV Inverters
Here is the table about types of PV inverters:
| FEATURE | CENTRALIZED PV INVERTER | STRING PV INVERTER | MICRO PV INVERTER | POWER OPTIMIZER of PV INVERTER |
| --- | --- | --- | --- | --- |
| Configuration | Centralized monitoring of the entire system | Multiple inverters connected in series | Individual inverter per panel | Individual optimizer per panel |
| Capacity | High | Medium to high | Low to medium | Low to medium |
| Efficiency | High | Medium to high | Medium to high | High |
| Cost | Low to medium | Low to medium | Medium to high | High |
| Monitoring | Centralized monitoring of the entire system | Monitoring of strings of panels | Monitoring of individual panels | Monitoring of individual panels and optimization of each |
| Shade Tolerance | Low | Medium | High | High |
| Maintenance | Requires less maintenance | Requires moderate maintenance | Requires more maintenance | Requires more maintenance |
| Flexibility | Less flexible for changes in system configurations | More flexible for changes in system configurations | More flexible for changes in system configurations | Highly flexible for changes in system configurations |
Centralized VS String VS Micro VS Power Optimizers: Comparison of the 4 Types of PV Inverters
Centralized inverters are well-suited for large power generation systems that feature centralized power stations. In contrast, string inverters are better suited for photovoltaic power generation systems of medium to small sizes. Centralized inverters have fewer components and lower costs, while string inverters offer simpler maintenance solutions and greater flexibility in system design.
However, it's important to note that string inverters have more electronic components, signal circuits, and higher failure rates as the system scales up. String inverters, in comparison to centralized inverters, come with a higher initial cost. As a result, the selection between centralized and string inverters hinges on the specific needs of the solar power system.
Micro-inverters provide a solution to malfunctions that can occur in traditional PV systems. They offer advantages such as easy installation, intelligent management, high-generation performance, and quick fault resolution. However, micro-inverters tend to have higher unit costs and maintenance expenses.
Power optimizers are power electronic devices applied at the component level in new or existing PV power plants. They have a predicted lifespan of 25 years. Power optimizers offer several benefits, including the ability to recover generation losses and swiftly shut down the system during emergencies. They also enable component-level monitoring and help prevent power output reductions due to panel parameter mismatches and dirt accumulation. Each optimizer can be individually connected to one or two solar panels, allowing for monitoring of power generation and temperature at the panel level. This facilitates remote monitoring, improves system operation efficiency, and enables quick fault diagnosis.
Factors to Consider When Choosing a PV Inverter
In the above comparison of the four types of inverters, we have identified their respective advantages and disadvantages. Now, let's summarize the key factors that we need to consider when choosing an inverter: 
System Size
Consider the size of your solar power system. Centralized inverters are suitable for large-scale installations, while string inverters are better suited for medium to small systems. Micro-inverters and power optimizers can be used in various system sizes. 
Efficiency Rating
Assess the efficiency ratings of different inverter types. Higher efficiency means less energy loss during the conversion process, resulting in greater overall system performance and increased electricity generation.
Maintenance Requirements
Evaluate the maintenance needs of different inverter types. Centralized inverters generally have simpler maintenance solutions, while micro-inverters may require more attention due to their distributed nature. 
Wireless and Wired communication
Wireless communication offers flexibility in installation and monitoring, eliminating the need for extensive wiring. However, it may be subject to interference and signal disruptions. On the other hand, wired communication, such as Ethernet or RS485, provides reliable and stable data transfer, especially in larger installations. 
Monitoring and Control
Determine the level of monitoring and control you desire for your solar power system. Micro-inverters and power optimizers provide component-level monitoring, while centralized and string inverters may offer system-level monitoring.
Cost
Consider the initial cost and long-term expenses associated with each inverter type. Centralized inverters often have lower upfront costs, while micro-inverters and power optimizers tend to be more expensive.
Where Needs PV Inverter?