Depressively, battery safety incidents have made headlines several times in the past two decades when it comes to safety. Battery-related incidents have resulted in billions of dollars worth of damage to both brands and properties. Some accidents have also resulted in personal injuries. Some of the most sensational events include:
In 2006, SONY batteries, mainly used in Dell laptops, started to catch fire; The root cause was a short circuit caused by undesirable impurities in the cells (more than 9m batteries have been recalled).
The crash of UPS Flight 6 in 2010, killed both pilots; The root cause was lithium-ion batteries that were being checked in the cargo hold.
Boeing grounded its Dreamliners in 2013 after battery fires; The root cause was a short circuit inside the cell (which cost Boeing more than $600m).
Samsung Note 7 batteries started catching fire in 2016; Many of the incidents were blamed on faulty battery cells that caused injuries. The recall cost Samsung more than $5 billion.
Due to the unstable nature of batteries, many organizations and countries have developed regulations to ensure that they get safe batteries. This article will look at the different countries, chemical composition, and battery applications of these three aspects of storms around the world that may need to comply with battery safety standards and what they need to include.
What Battery Safety Standards Do You Need?
Battery Safety Standards on Transportation
To determine what international battery standards your rechargeable battery solution may need to meet, you first need to ask yourself a question. In nearly all instances, do these batteries require transport? The answer is typically yes. If so, then you will need a UN 38.3 test.
The United Nations has the lithium-ion battery listed as dangerous goods, and puts forward Suggestions on how to transport the lithium-ion battery." Section 38.3 of the UN Manual Transport of Dangerous Goods details which lithium-ion batteries are eligible and how they are tested to ensure safe transport.
Battery Safety Standards in Different Countries
So, are you going to ship these batteries to various countries? If it is, let's look at the battery monitoring standards of each country.
International Battery Safety Standards
International standard IEC 62133: Battery safety performance.
IEC 61960: Secondary battery performance and safety requirements of international standard.
IEC 60086: International standard for the performance and safety requirements of primitive batteries.
European Battery Safety Standards
CE certification: Battery products that meet European battery standards need to obtain CE certification.
REACH regulation: Chemical information is required to ensure the safety of battery materials.
RoHS Directive: The EU directive restricts the use of specific hazardous substances in battery products within electronic and electrical items.
The CE mark signifies safety qualification rather than qualification for quality. Do the "main requirements" constitute the core of the European directive? Battery CE certification: EN62133 standard. Battery products intended for the European market must adhere to the European Union's battery directive. Batteries used in electronic and electrical equipment should conform to recycling standards outlined in the WEEE directive and adhere to the hazardous substance limits set forth in the RoHS directive. In addition, it also needs to meet the REACH regulations related to battery registration, harmful chemicals, and other provisions. When it comes to battery performance and safety, there aren't any obligatory regulatory mandates; the primary reference points are the European Union's battery performance and safety standards.
US Battery Safety Standards
UL 1642: This is the national standard for battery safety in the United States, covering the testing and certification of batteries, including lithium-ion and nickel-metal hydride batteries.
UL 2054: Battery pack and battery testing standards.
FCC certification: Federal Communications Commission certification for battery products used in radio equipment.
Before entering the US market, batteries must obtain UL certification. While UL certification is optional, products bearing the "UL" mark will be cleared by US customs without undergoing intricate inspection procedures. Moreover, in the event of a safety incident, the Fire Safety Commission (CPSC) will reference UL standards. Consequently, many sellers in the United States opt not to offer products lacking the "UL" mark to avoid complications. To enter the United States as a component of electrical products, batteries need to be UL-certified. UL1642 is a safety testing laboratory company in the United States, is the most widely international certification assessment of lithium batteries in all kinds of fault cases battery the authority of the safety and reliability standards, mainly for batteries (cell). The UL2054 is aimed at a lithium-ion battery pack or battery pack. Suitable for use as power sources in the product, whether as primary or secondary batteries, these batteries can comprise a single electrochemical cell or multiple cells, arranged either in parallel or in series, to convert chemical energy into electrical energy via the chemical processes of lithium-ion batteries. Test standard: UL1642, UL2054. The cycle is expected to last 4-6 weeks.
Chinese Battery Safety Standards
GB/T 18287: This is a Chinese national standard that covers general specifications for lithium-ion batteries, including performance requirements, test methods marks, etc.
GB 31241: Safety technical specification for lithium battery products, including safety tests and requirements.
CQC certification: China Quality Certification Center certification, suitable for domestic battery products.
Currently, CCC has not implemented compulsory certification for battery cells. However, for products containing batteries, CCC mandates that the batteries must undergo testing related to non-mandatory CQC certification requirements. Although CQC certification is a voluntary product certification, enterprises apply for CQC certification, and the quality of their products has a lot to improve: 1, the product passed the CQC certification and shows that the enterprise products fully meet or higher than the national or industrial standards; 2, CQC certification, many products are components, if the enterprise's products through the CQC certification, product certification, customers product do is not to need to repeat random testing. Test standard: GB31241, GB 38031-2020. The cycle is expected to take 3-4 weeks.
Japanese Battery Safety Standards
JIS C 8714: Battery and battery components of safety performance requirements of international standard.
JIS C 8708: International standard for performance and safety requirements for nickel-cadmium batteries.
JIS C 8704: International standard for performance and safety requirements for alkaline batteries.
Specific within the scope of the lithium-ion battery has been the Japan directory, for electrical appliance and material safety law products currently exported to Japan the particular range of lithium-ion batteries, must conform to the requirements of the law about supplier compliance declarations, and when it must paste the circular PSE mark.
Korean Battery Safety Standards
KC certification: Korea product safety certification, applicable to all battery products.
KS 8511 C: lead-acid batteries and battery performance and safety requirements of international standards.
KS 8512 C: Nickel-cadmium battery and battery performance and safety requirements of international standards.
Canadian Battery Safety Standards
CSA certification: Canadian Standards Association certification, applicable to all battery products.
CSA C22.2 No.0.15: Safety test standard for lithium-ion batteries.
CSA C22.2 No. 107.1: International standard for performance and safety requirements for lead-acid batteries.
It is important to note that different types of battery products may need to comply with different standards and certification requirements, specific standards and certification requirements should be chosen according to the type of product and market.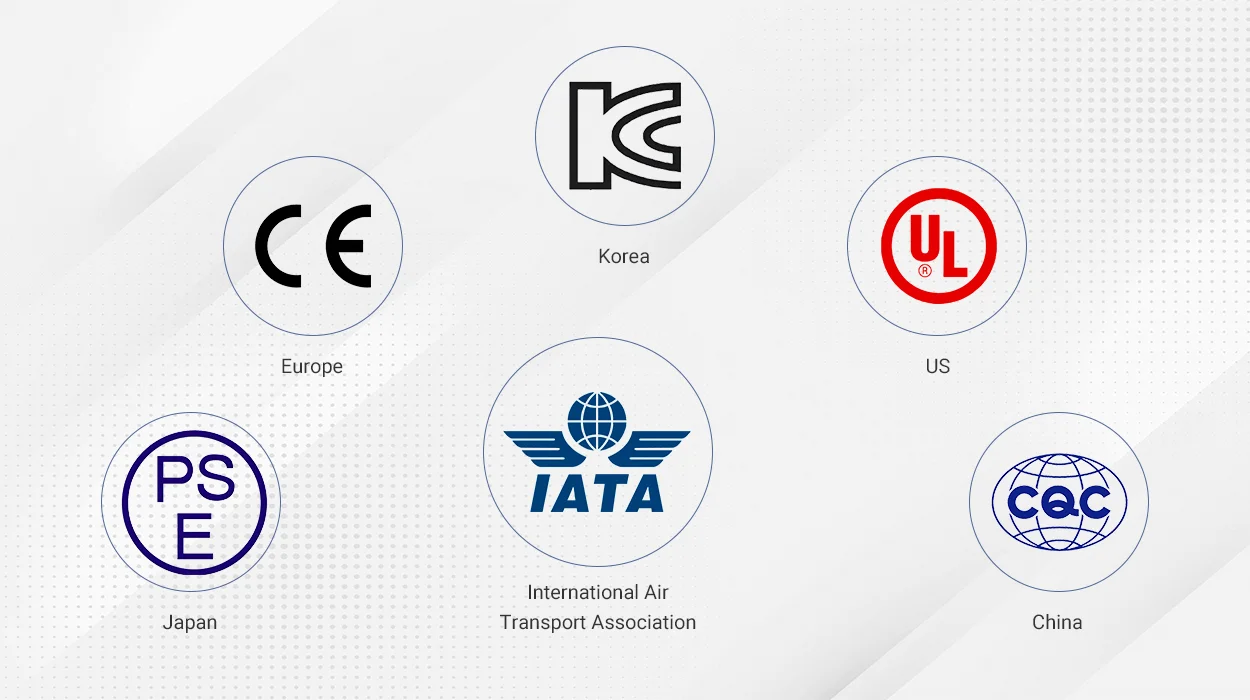 Battery Safety Standards of Different Chemical Materials
The following a different chemical materials that should follow the specification of the battery safety standards.
Lithium Battery Safety Standards
Nickel Metal Hydride Battery Safety Standards
Nickel Cadmium Battery Safety Standards
Lead Acid Battery Safety Standards
Photovoltaic Battery Safety Standards

Battery Safety Standards for Different Applications
Batteries are used in many commercial applications such as emergency and backup power systems, electric vehicles, aviation, or the military. Each battery pack must pass a set of distinct environmental, electrical, and mechanical tests tailored to its specific application in order to receive approval. Among these packaging-level certifications, UL 2054, UL 2271, and UL 2580 stand out as the most prevalent, underscoring their significance in regulatory awareness. Below are the prescribed specifications for ensuring battery safety across various applications.
Automotive Battery Safety Standards
Aircraft Battery Safety Standards
Military Battery Safety Standards
Radio Battery Safety Standards
Standby Power Systems Battery Safety Standards

Battery Regulations of BMS
At the beginning of the article, we mentioned some sensational battery accidents caused by the loss of events in recent years, in recent years, people the installation of battery management systems in the battery to alleviate the occurrence of battery accidents, today, the battery is basically the existence of battery management system, and for the battery management system, but also a series of regulations to be monitored.
Battery management systems are an important aspect of lithium-ion batteries, so the standards they hold are very important, which is why this regulation will be divided into battery regulatory standards. The job of the battery management system is to ensure that the battery is in the proper state of balance, the battery does not operate outside the ideal temperature, the battery current is not higher than the design, and maintains the ideal operating voltage range. IEC 61508 sets the standard for managing battery systems.
IEC 61508 standard:
General battery standards: It outlines the tasks that should occur during each phase of the entire safety lifecycle, including documentation, adherence to the standard, supervision, and safety evaluations.
Hardware and software safety: The standard covers safety requirements for hardware and software, including the safety of programmable electronic systems.
SIL: The standard introduces the concept of Safety Integrity Level (SIL) to quantify the functional safety performance of a system. SIL levels span from 1 to 4, and as the level increases, the requirements become more rigorous.
Lifecycle: IEC 61508 requires functional safety management throughout the system lifecycle, including system design, development, verification, validation, and maintenance.
Conclusion
Although battery regulations may seem complex at first glance, ask yourself, "In what applications and in what country are the batteries intended?" This question can simplify the situation. With this in mind, you can determine which regulations to follow. The regulations are similar, but they all try to test the safety of batteries when they are not used properly.
MOKOEnergy company aims to ensure the safety of the battery, our battery management systems in many countries, such as the United States, Australia and so on all have a partner, are critically acclaimed, and can be sent to the client to ensure that product conforms to requirements and pass laws and regulations such as IEC 61508. And our BMS has been widely used, in addition to the most commonly used electric vehicles, we also have a place in energy storage systems, industrial fields, and portable devices. Don't hesitate to reach out to us if you have any questions.
CONTINUE READING ABOUT THE BATTERY SAFETY STANDARDS