Why has the Battery Management System (BMS) suddenly become so popular in the past few decades? The reasons behind this trend are closely tied to the urgent concerns of nations and people regarding climate change. As the world increasingly shifts towards eco-friendly energy solutions, there has been a significant rise in the production of electric vehicles and the widespread adoption of energy storage systems. Consequently, the global demand for lithium-ion batteries has surged, and the BMS plays a crucial role in optimizing battery performance. Embracing the tide of progress, battery management system manufacturers in China from all walks of life are eager to hop on board and experience the BMS trend.
List of Top 10 Battery Management System Manufacturers in China
Within China, the plethora of battery management system manufacturers can make it challenging to identify the best BMS factory among numerous contenders. Nevertheless, following extensive research over an extended duration, we have examined a selection of the leading energy storage BMS companies in China and ascertained their proficiency in developing cutting-edge battery technology and energy storage solutions. Without further ado, let's explore the top 10 battery management system suppliers in China!
Table Comparison
 Ningde Times New Energy Technology, commonly known as CATL, was founded in 2011 and stands as one of the China EV BMS

manufacturers of high-caliber power batteries with international competitiveness. CATL specializes in the research, development, and production of lithium-ion batteries tailored for electric vehicles and energy storage applications. Additionally, the company also manufactures battery modules designed specifically for electric vehicles, powertrains, large-scale grid energy storage systems, and BMS.

MOKOEnergy is a high-end company established in China in 2006, which is dedicated to designing, developing, manufacturing, and supplying best-in-class Battery Management Systems and Photovoltaic Inverters. The company currently has a wide range of BMS products in the field of energy storage, electric vehicles, backup power, industrial, and cascade utilization. MOKOEnergy is one of the best lithium-ion battery manufacturers in China, offering a diverse range of BMS customization options (customizable options: brand, specification, appearance, performance, etc.). Moreover, MOKOEnergy is certified by SGS ISO14001, ISO9001, QC08000, and TS16949.
Gotion was established in May 2006 and is located in Yaohai Industrial Park, Xinzhan District, Hefei City. The company focuses on the exploration and advancement of novel lithium-ion batteries and their components. Their primary offerings include lithium iron phosphate materials, battery cells, power battery packs, BMS systems, and energy storage battery packs. Gotion battery was integrated into SAIC EV80 and made a notable appearance at the Birmingham Motor Show in the United Kingdom. It achieved a successful entry into the European market, boasting an impressive driving range of 370 kilometers.
AnhuiGuibo Xinneng Technology Co., Ltd. (GVB) was founded in June 2012. With a vision to "leverage information technology, drive energy transformation, and contribute to society's welfare," GVB is dedicated to emerging as a technological frontrunner in energy storage and the new energy sector. GVB offers a comprehensive range of products and services, including BMS, PACK, integrated solutions for energy storage applications, and intelligent microgrids.
Hangzhou Genwell Co., Ltd., belongs to Zotye New Energy Automobile Co., LTD. Since its inception in March 2010, the company has dedicated its efforts to the advancement and manufacturing of essential components for new energy vehicles, including the battery management system (BMS), vehicle controller (VCU), vehicle charger, vehicle DC/DC converter, motor controller, and related products. Greenwell has a perfect quality management system and has passed the ISO9001/TS16949 quality system certification.
AVIC Lithium Battery Co., Ltd., a subsidiary of the Aviation Industry Corporation of China, is a high-tech new energy enterprise specializing in R&D and the production of lithium-ion power batteries and lithium battery management systems. The company's primary offering consists of lithium-ion power batteries, featuring monomer capacities spanning from 10Ah to 500Ah. These batteries find widespread application in various sectors, including electric vehicles, power storage, military applications, rail transit, and mining equipment.
Founded in 2009, Pylontech is a dedicated BESS (Battery Energy Storage System) supplier, integrating expertise in electrochemical power electronics and system integration. Over the years, the company has been delivering dependable and cost-effective energy storage system (ESS) battery products and solutions worldwide. Through its substantial contributions, the company has managed to achieve a remarkable growth rate in just seven years, solidifying its position as a leading global supplier of lithium battery storage solutions.
BYD, a prominent multinational company in the Chinese automobile industry, specializes in the development of electric vehicles. Established in 2003 and headquartered in Shenzhen, China, BYD collaborated with Toyota to create numerous electric vehicles. The company initially focused on pioneering battery management systems for electric vehicles, and through successful advancements in this field, it emerged as the leading global manufacturer of battery management systems.
Joyson Electronics was established in 2004 and is headquartered in Ningbo, China. In December 2011, the company successfully went public on the Shanghai Stock Exchange and acquired Preh, a German company. As a subsidiary of Joyson Electronics, Preh played a significant role in supplying the battery management system for the BMW i3 pure electric vehicle, making it the first Chinese auto parts company to provide such a system for BMW. Apart from its application in new energy vehicles, Joyson Electronics also extends its BMS systems to the energy storage sector.
Established in 2006, Huizhou E-POWER Electronics CO., LTD embraces a vision of green, energy-saving, and environmental protection as the driving force for future development. Combining research and development, sales, manufacturing, and services, E-POWER stands as a specialized provider of battery management systems and battery system assembly. It holds a prominent position in the domestic market, boasting a high market share. The company's automotive BMS range encompasses EV01, EV02, EV03, EV04, and EVO5 series, in addition to supplying large-scale BMS products to energy storage system integrators.
Factors to Consider When Choosing BMS Manufacturer
Experience and Reputation: Seek out a manufacturer with a strong and proven history in the industry, along with a favorable reputation. Examine their background, years of expertise, and customer feedback or recommendations as indicators of their dependability and level of service excellence.
Safety and Protection Features: Battery safety is critical. Verify that the BMS manufacturer implements comprehensive safety and protection features such as overcharge protection, over-discharge protection, short-circuit protection, temperature monitoring, and cell balancing.
Product Quality and Technology: Inquire about the materials used, manufacturing processes, and their approach to quality control. A trustworthy BMS manufacturer must also keep abreast of the most recent technological developments.
Cost and Pricing: While price is a factor, it should not be the sole determinant. When comparing prices from various manufacturers, exercise caution regarding excessively low prices, as they could signal inferior quality.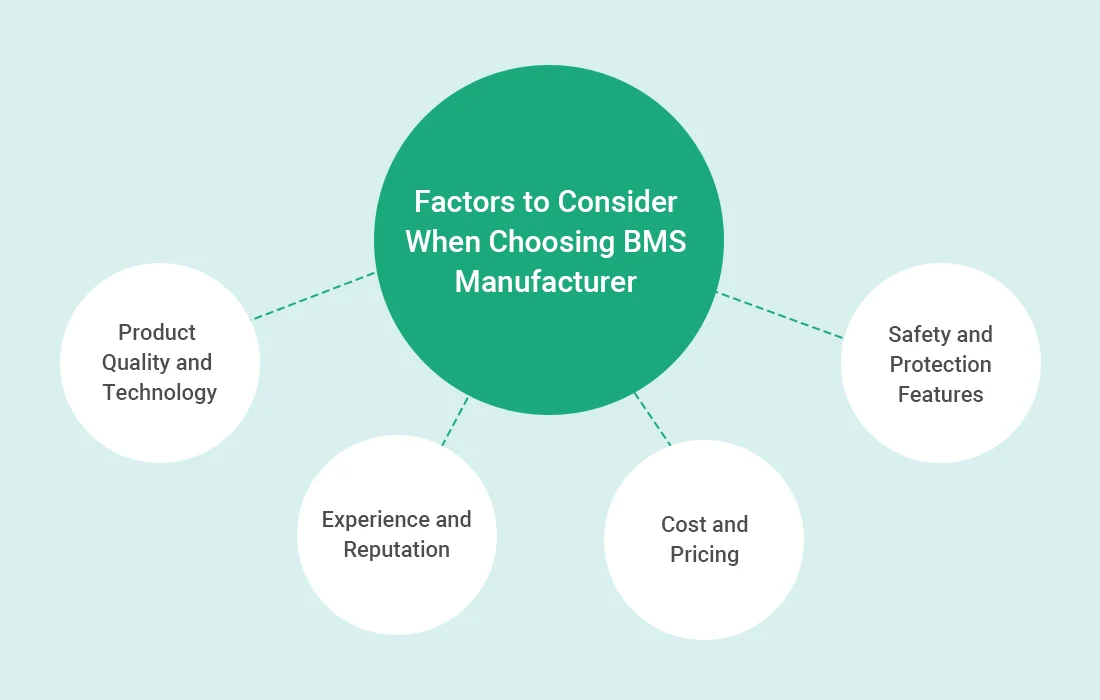 Battery Management System Future Development in China
Market Size
In recent years, global sales of new energy vehicles have continued to grow, reaching 6.5 million units in 2022, a year-on-year increase of 108%, with a penetration rate of 8.1%. As the global new energy vehicle market continues to grow, the demand for BMS in new energy vehicles has expanded significantly, constituting a substantial share of the market. In 2022, global sales of new energy vehicles increased sharply by 108% year-on-year, driving the BMS market value to $11.5 billion, growing at a CAGR of 56.5%.
Notably, the Asia-Pacific region, especially China, is currently the largest region for the BMS (battery management system) market. In 2022, China's new energy vehicle sales reached 3.521 million units, accounting for 54.2% of the global total, surging 157.6% year-on-year, with a market penetration rate of 13.4%. With China being the leading global producer and consumer of new energy vehicles, the demand for BMS has been steadily rising. China's new energy vehicle BMS market is estimated to be valued at RMB 22.51 billion in 2023, growing 90.6% year-on-year.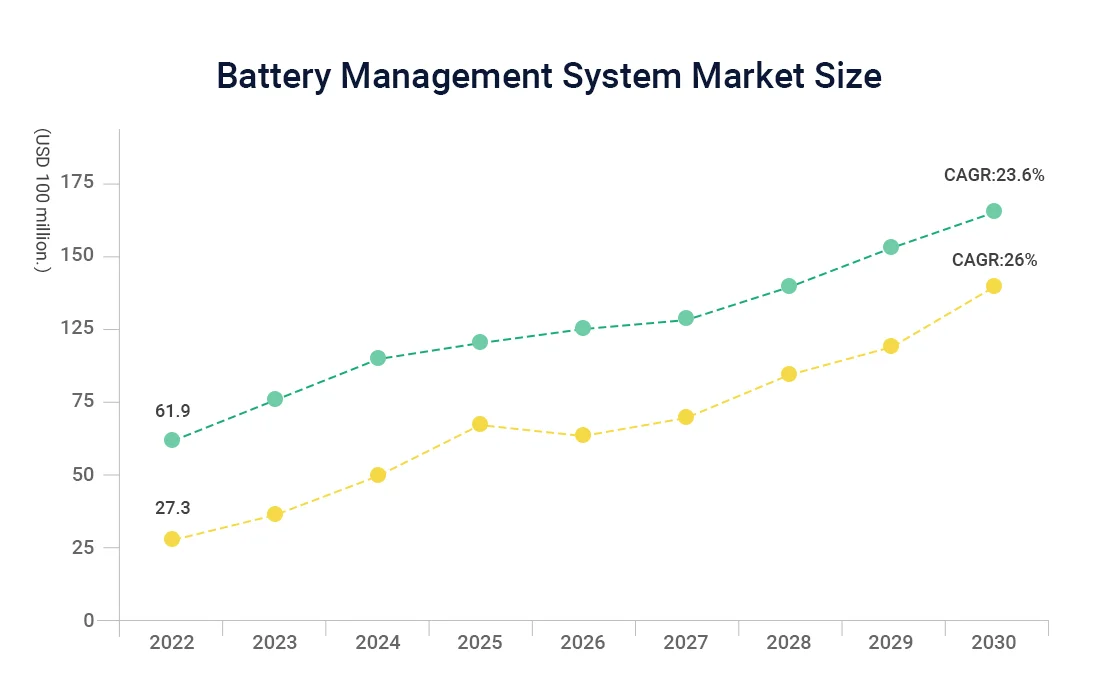 Market Dynamics
The industry has a broad development prospect. On the one hand, the state has been the new energy automobile industry, and power battery industry as a strategic emerging industry to focus on supporting, for many years to continuously launch policies to encourage and support the development of related enterprises. On the other hand, with the continuous development of the industry, especially the new energy vehicle penetration rate continues to increase, technology is becoming more mature, and lithium battery costs continue to decline, making the industry from the policy subsidy-driven to market-driven transformation in the national financial subsidy policy gradually tightened after the gradual retreat, more with the help of the market system to regulate, is conducive to reducing the policy changes caused by the industry's impact on the product R & D and technological innovation capabilities of enterprises stand out, and is conducive to the development and development of new energy vehicles and power batteries. Innovation ability of enterprises to stand out, in favor of China's new energy automobile industry, lithium battery industry, and energy storage industry's long-term development. Battery management system for power battery and automobile safety plays a crucial role, directly affecting the performance of new energy vehicles, improving user experience, improve safety and efficiency is essential, the future, with the new energy automobile industry, the rapid development of the power battery industry, the industry will also usher in a good market development opportunities.
Functional requirements continue to improve. Due to the continuous development of battery materials and the continuous broadening of battery applications, the development of BMS functions is becoming more complex and diverse. Early BMS generally only has a simple function of monitoring battery voltage, temperature, and current. With the popularization of global and China power battery management system applications in new energy vehicles, the requirements for BMS are getting higher and higher and the functions of BMS are getting stronger and stronger. After a long time of extensive research and vehicle applications and people's understanding of the battery to enhance the management of the battery is also increasingly effective, the importance of the BMS has been fully recognized. BMS has been gradually transformed from a monitoring system to a management system, at this stage, the BMS has a battery status monitoring, battery safety analysis, battery status analysis, and battery information management of the whole function of the management capacity, all-round protection of the battery pack Safe operation, effectively extend the life of the battery, and then protect the normal operation of related equipment.
Complete Solutions for BMS by MOKOEnergy
MOKOEnergy provides products including BMS, EV charging stations, and PV inverters. We emphasize a sound quality management system and have been certified by UL, TUV, and Intertek high voltage system certificates. Throughout our years of production and operation, we have strictly adhered to the quality system and encouraged a culture of quality management among its employees to ensure the delivery of first-class products.
MOKOEnergy has constructed a cutting-edge facility in Guanlan, Shenzhen, featuring an automated BMS production line with a remarkable capacity of 9 million points and 50,000 units daily. Additionally, the company has implemented advanced testing platforms to conduct rigorous evaluations encompassing parameters like short circuits, high temperatures, anti-static, IP67 waterproofing, and temperature and humidity conformity. With these state-of-the-art testing capabilities, MOKOEnergy ensures the production of top-notch BMS products that comply with the stringent demands of diverse industries.
As one of the most innovative lithium battery manufacturers in China, MOKOEnergy continues to push the boundaries of technology and production capabilities. By emphasizing technology, quality, and customer satisfaction, MOKOEnergy is well-positioned to take the lead in the ever-changing realm of energy storage solutions, solidifying its dominant position in both the Chinese and global battery management system market. If you need any assistance, feel free to contact us anytime!
Conclusion
China's BMS manufacturers are at the forefront of energy management solutions, catering to the growing demand for efficient and sustainable battery technologies. Each of the top 10 battery management system manufacturers in China we've explored offers unique strengths and capabilities, making them valuable partners for businesses seeking reliable energy storage solutions. When choosing a BMS manufacturer, careful consideration of various factors will ensure that you find the perfect fit for your specific requirements, setting the stage for a successful and sustainable partnership.
CONTINUE READING ABOUT THE BATTERY MANAGEMENT SYSTEM